Ah, what a lovely birthday I had! All my friends called. Hundreds of Facebook messages! Even my favorite uncle who insists that my birthday is on a different date called on the right day! In fact, my day started with a phone call at 5.30 am from one of my favorite people, who I met when I was 24. She has never missed wishing me on a birthday, anniversary or festival since we met. Later in the day, another close friend dropped by, as we had planned to stroll around our area and have lunch together.
The day started with a big surprise birthday cake. I had such fun pretending not knowing it was in the first shelf of the fridge. They sang happy birthday to me – and  since it was a weekday, had to get ready to go. I put in a couple of hours of work in the morning, and went out to meet my friend. We had a lovely time – window shopping, buying a few things, followed by a leisurely lunch at one of our favorite restaurants in our area.
I organized lunch for the hundred or so children at my local orphanage – I always love going there and spending time with  them – but somehow I can never bring myself to photograph them. Seems like an intrusion on their privacy.
I am sharing some photos from my outings in the morning and evening. It was a glorious day. Seven Times Seven sure feels like a good place to be! (Click photos to see large version)
No risk with this rusk!
Apples at the mall. You know what they say about an apple a day. There were enough here to last me until my next birthday!
As we strolled around, we were stopped by this guy. He's part of a street-performer troupe who usually dress up as characters in Hindu Mythology. I always feel upset about the color they put on the child's face. It was a hot and sunny day.
My friend got some veg from this lady we know quite well. Sweet thing! Her veg is always fresh.
Her unit of weight is so interesting. That brinjal (egg plant) next to the weight is used to denote 50 grams!
Can you believe the sky on my birthday? Looks unnaturally beautiful, no? This is only a cellphone photo!
Awww – so magical! It is a stunningly beautiful world!
Loved this flower arrangement at the restaurant we had dinner. Pretty no?
I shared my birthday with none other than the great Google – what a cute doodle for our birthday eh?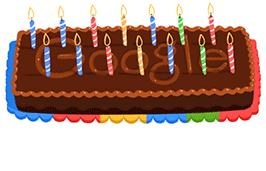 I couldn't post yesterday because I was busy catching up with a couple of other things on my other two blogs. Do check them out, if you feel like:
Five Ways to Murder Your Heart at Your Medical Guide – post for World Heart Day
Book Review: Just Married, Please Excuse! at Coffee With Mi!. Loved the book!
In fact, I am going to be doing a series of book reviews over the next few days as I have a stack to review. I am so looking forward to it!
My heartfelt thanks to all those who commented, emailed and phoned, in response to this post: Blessed last Sunday. I am overwhelmed.
And now, let's go and see how things are swinging' over at UnknownMami's – from there, the world via our keyboards!
Happy October! 
Thank you for subscribing to my blog! Do consider leaving a comment – or just reply to this email! I'd love to know what you think.
Cheers!
Vidya