Ever wished to curl up with a stack of books and an endless supply of coffee?
I have. Many times.
And my wish almost came true when I discovered Blinkist, a fantastic app a couple of months ago. I am in love. If you enjoy nonfiction books as much as I do, you'll understand what I mean as you read on.
See, one of the problems about reading books these days is – you probably guessed it – time.
We just do not have the time to read every bestselling title we buy and hoard.
What if we could create more time in our day AND had enough to read the books we wanted?
Here is where Blinkist comes to the rescue. And believe me, you'll be excited when you know how it works.
It is an amazing concept. I like to think of it as a wonderful productivity hack.
What exactly is Blinkist?
Blinkist takes great works of non-fiction and distills them into powerful, made-for-mobile units called blinks; these 2-minute-reads built around memorable key messages, give you the main concepts of an entire book in 15 minutes. There are more than 1500 bestseller summaries across a number of categories.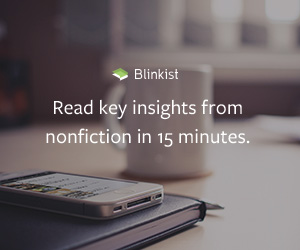 The goal is to offer the reader, that's you and me, the key points from the book minus the fluff.
Read up on economics over coffee, listen & learn new mindfulness techniques during a run, or hear the key insights from the latest business books on your commute.
Blinkist is a great way to catch up on the books you want to check out. You can use it on the go. Think productive waiting time – and imagine the feeling of having read a couple of books in 30 minutes. Cool eh?
Click here to try Blinkist – there's a 3-day free trial
What I love about Blinkist
Each blink begins with a concise description, telling me why I should read the book, and what I can take away in terms of learning.
Book summaries are available as text as well as audio. Think driving and listening. Yes!
Of course, I want to highlight key passages for later reference. Why not auto-sync them to Evernote and access them from there?
But wait, it gets even cooler
You can use the send-to-Kindle feature if you prefer not to read on your phone or your computer.
I hear what you're thinking.
Is Blinkist a substitute for my regular reading habit? Of course not! Who doesn't want to read a book cover to cover? But the thing about most non-fiction books is – they start off with a bang and one tends to slow down midway through the book.
Blinkist works because:
For all those books you are yearning to read, you can get the summaries at your finger-tips
Blinkist lets you decide if you really want to read the entire book. Remember browsing at a bookshop? Yes. Only, Blinkist is better.
You could save yourself some serious money by deciding not to buy the book after all. I know! You're welcome!
I personally love Blinkist because it lets me get the essence of several books a day, absorb the important points and sometimes skip the fluff.
It's easy to go deeper into subjects you can't get enough of or find new topics you didn't know you loved, from nutrition and self-help to marketing and business. 
In short here are 7 reasons I can immediately think of to get Blinkist
Blinkist summaries are written by humans, no bots or algorithms
Blinkist works on all your devices, and you can sync it across all platforms
Blinkist adds new titles every week. And the selection? Superb.
Blinkist's send-to-Kindle feature lets you read on all your Kindle devices
Blinkist offers audio book summaries for those who prefer to listen. (do the dishes + read 2 books. Yes)
Blinkist keeps your book highlights on their website, so you can go back to them.
Blinkist lets you export your highlights to connects to your Evernote — yay! what a bonus!
Eager to explore Blinkist?
Enjoy Blinkist with a 20% discount for the first year
Or, try it out for free for 3 days! No strings attached.
I have a feeling you're going to love it too!